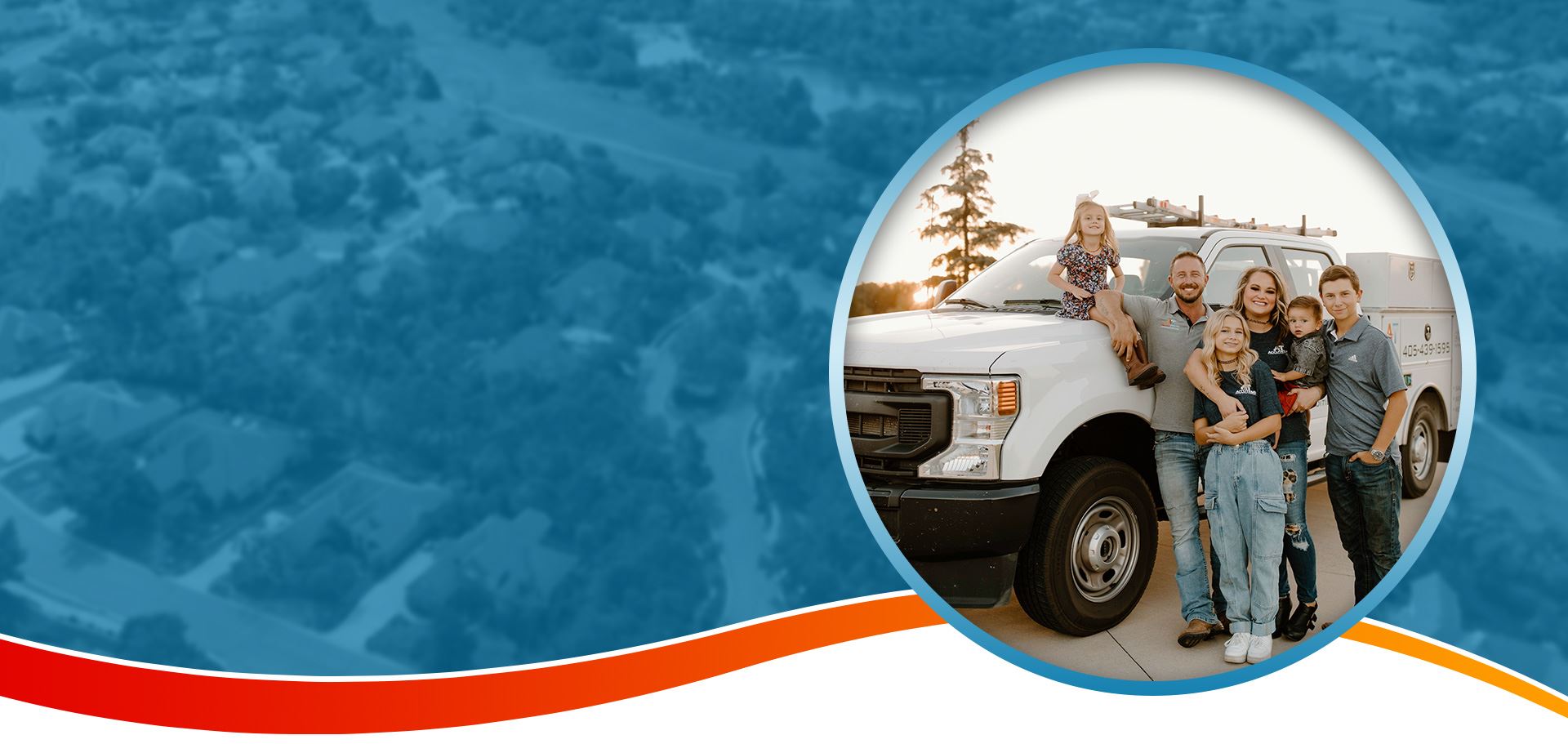 Veteran & Family owned
AccuTemp HEATING
& Air Conditioning
Your local HVAC professionals
Serving the Oklahoma City Metro Area Since 2021
Oklahoma City, OK HVAC Company
The Most Trusted Heating & Cooling Techs in Moore
AccuTemp Air is the most trusted HVAC company in Oklahoma City, known for our commitment to quality, service, and customer satisfaction. Our licensed and insured technicians specialize in temperature control, indoor air quality, and home energy cost management, providing a wide range of services that cater to your every comfort need. We are a leading provider of top-tier heating and air conditioning services, always delivering repairs, replacements, and maintenance with precision, care, and efficiency.
Our skilled technicians are prepared to take on any HVAC service that comes our way. We are familiar with all makes and models of equipment – including central furnaces and air conditioners and ductless mini-splits – and always get the job done right the first time around.
Call (405) 956-1763 or contact us online to learn more about our high-quality heating and air conditioning services.
Giving Back AccuTemp is proud to unveil our first ever FREE AC giveaway recipients!
Our Top-Rated Services How We Can Help You
Put your trust in AccuTemp Air and rest assured we always get the job done right the first time around.
Ensuring Your Comfort & Efficiency Since '21
AccuTemp Air stands out in the HVAC industry by offering whole-home energy usage evaluations. These evaluations enable us to provide you with a tailored energy plan designed to reduce energy costs while maximizing comfort and efficiency within the home. To achieve this, we collaborate with local contractors to create a plan to make your home as weather-tight and energy-efficient as possible.
During our energy assessment, we examine your current energy usage, identify areas of inefficiency, and suggest improvements. Part of this service includes access to high-performing, energy-efficient HVAC equipment, which can significantly enhance the energy efficiency of a home. Give us a call to take control of your energy usage.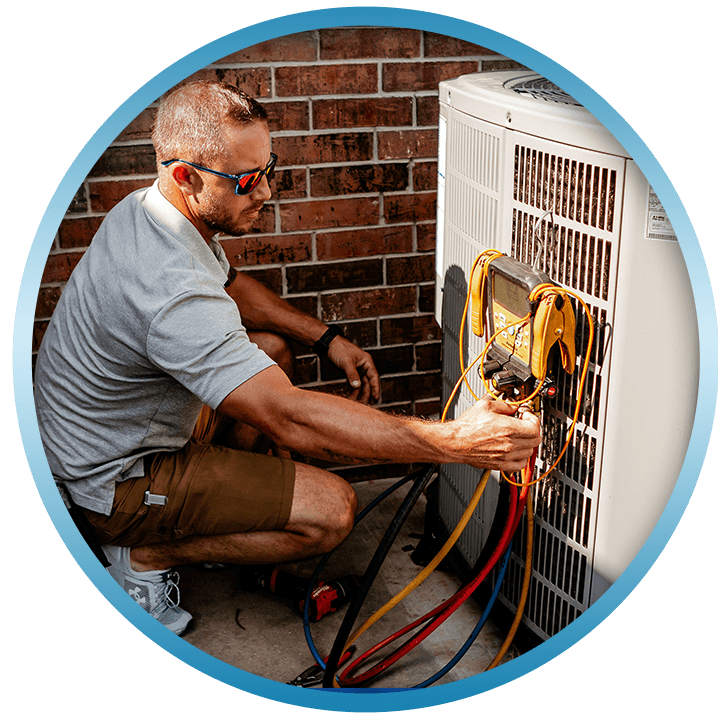 What Makes AccuTemp Different?
Learn More About Us
As a family owned and operated company, we pride ourselves on quality customer service. Our highly skilled technicians go above and beyond to make sure you're comfortable in your home, treating it as if it were our own.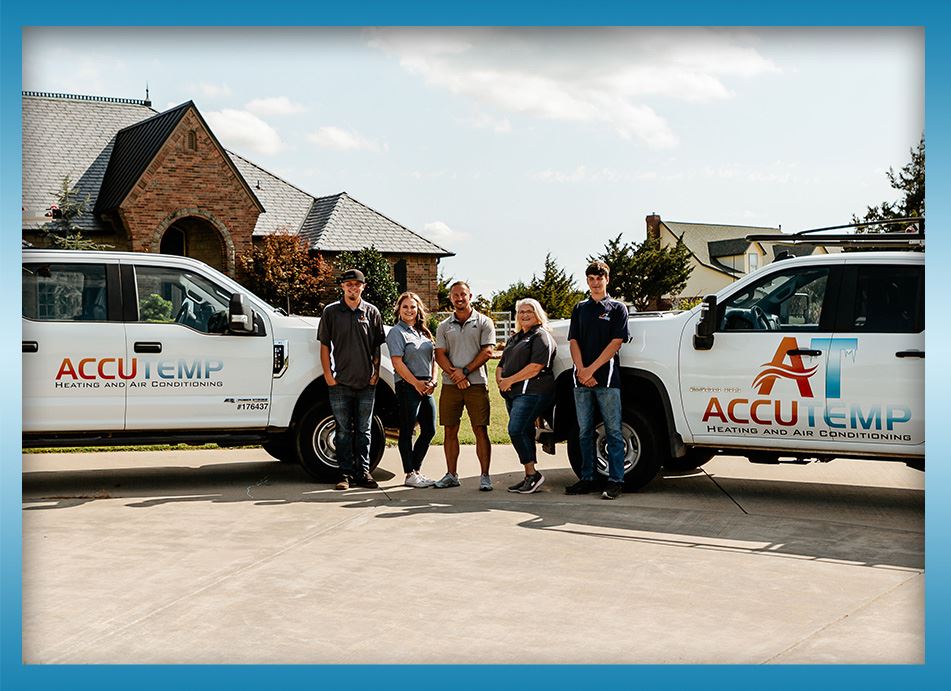 Sign Up for Our Accu-Tune Maintenance Plan!
Backed by well over a decade of experience, our technicians know a thing or two about how to keep your HVAC equipment in good working order. We understand the importance of maintaining a safe and comfortable home, which is why we designed a comprehensive maintenance plan to help you get the most out of your heating and cooling systems.
Joining our Accu-Tune Maintenance Plan is the best way to extend the lifespan of your equipment, enhance its efficiency, and reduce the risk of costly breakdowns. This program includes two annual inspection and tune-up services, same-day scheduling, discounts on services, and peace of mind knowing that your HVAC equipment is in good hands. Our heating and AC maintenance experts ensure that potential issues are caught early on, saving you both time and money in the long run.
Don't wait for an issue to arise – sign up today and experience the benefits of preventative maintenance firsthand.
Call (405) 956-1763 to work with the most trusted HVAC company in Oklahoma City.
Veteran & Family Owned & Operated

As a local business, we're driven by integrity, accountability, and quality customer service. We're incredibly fortunate to be able to give back to our local community.

We Can Help You the Same Day

Don't wait weeks for an appointment. Give our office a call if you need help as soon as possible!

We Offer Financing Options

Our flexible financing options make getting the service you need when you need it easier than ever before.

24/7 Help Available

We're here to help you whenever you need us.
Hear From Our Happy Customers Reviews & Testimonials
At AccuTemp Heating & Air Conditioning, your satisfaction is our priority! See for yourself what our customers have to say about working with us.
"Professional & Kind"

Austin was very professional and arrived on time. I am very impressed the company does not charge extra for evening or weekend service calls. He had my AC unit running again quickly and the prices were very reasonable.

- Lindsay S.

"Highly Recommend"

He showed up an hour before expected, examined every part of our AC unit, and worked on it for almost two hours. ON A SUNDAY!

- Jalen C.

"Made It Easy For Me"

I had a great experience with Austin at AccuTemp. Austin was very personable and professional.

- Darrell H.

"Outstanding Service"

Austin was phenomenal and took his time diagnosing what the actual issue was, he explained to me to where I could understand what the issue was and was able to give me options to fix the problem.

- Brianna H.

"THANK YOU!"

AccuTemp chose our family for a giveaway, and let me say how grateful we are to this company. They went above and beyond!

- Melody W.

"Saved My Day"

Austin came to my rescue! I got same-day service.... actually within an hour that I called, he was calling letting me know he was on his way.

- Misty B.